National Shuffleboard History
National Shuffleboard was a company which produced quality shuffleboards. In its prime in the 1930's-5o's they were considered one of the premium quality boards of the shuffleboard era. Rock-ola shuffleboards were considered the gold standard, National Shuffleboards second and American the everyday best selling shuffleboard.
In the '30s, Sol Lipkin started his long career in shuffleboard as a salesperson for the National Shuffleboard Company, then became a representative for the American Shuffleboard Company. Competition between the shuffleboard manufacturers (National, American, Modern, Rock-Ola, Valley, etc.) was intense then and many believe Sol established American Boards as the industry standard.
National Shuffleboard was made in New Jersey – but sales grew to the Northwest rapidly due to a number of high profile dealers.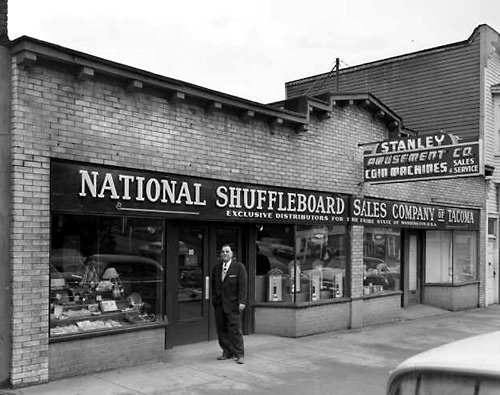 National Shuffleboard In Tacoma, Washington. An unidentified man stands in front of the
National Shuffleboard Sales Company located at 1119 Tacoma Avenue South across the street
from the Main Branch of the Tacoma Public Library.
Both the Stanley Amusement Co. and the National Shuffleboard Sales Co. of Tacoma were owned by Stanley Kolitzoff and George Sellers in the mid-1950's. The shuffleboard company was the exclusive distributor of shuffleboards for the entire state. Trophies were on display in the storefront windows as well as clocks, blankets and other items used for prizes. The Stanley Amusement Co. sold and serviced coin machines, including apparently riding horses like the one located in the store's display window.
Below are two old National Shuffleboard Posters – Held in ZieglerWorld Headquarters. If interested in purchasing – contact ZieglerWorld at cziegler@zieglerworld.com
Below is an old National Shuffleboard emblem.